"I wished I had Paul as a teacher when I attended Art Center."
- Ken Okuyama, designer of the Ferarri Enzo and past Transportation Chair of the Art Center College of Design in Pasadena.
Paul T. Glessner's Introduction for Consideration as Team's Aerodynamicist

This letter is a summary of my background as it relates to automobile racing in general. The intent of this summary is to apprise your team of my background for consideration of me, and my technical staff when appropriate, as an integral and/or satellite member of your racing team's organization. I look forward to a relationship that will develop beneficial results for both parties. Sensitivity to security of team specific designs is paramount.
Experience
~ I followed the career of my idol, Mark Donohue - winner of the 1972 Indy 500
and Brown University mechanical engineer, through all forms of racing since I was 6 years old. I received his racing uniform shortly after his Indy win and unfortunately served his funeral as an altar boy in 1975; it hangs in the Peterson
Automotive Museum in Los Angeles. Apprised Roger S. Penske, Penske Racing, of a wing design while studying as a sophomore at the Pennsylvania State University in 1981 which later was designed, built and raced on the two cars he fielded that placed Al Unser, Sr. 2nd and Rick Mears 3rd in the 1983 Indianapolis 500; there were only three cars on the last lap.
~ Pit crewed for Bob Leitzinger Camel GTU 280ZX in 1983. I oversaw a senior thesis

wind tunnel program to increase downforce and reduce drag on his automobile. Benefits were realized as he later went on to win the Camel GTU Championship for NISSAN for two years in a row.
~ Executive Assistant to Gerald A. Wiegert, President and CEO of Vector Aeromotive Corporation in the development of the much media touted $448,000 Vector W8 supercar. The "world's fastest production automobile" had a top speed of 218 m.p.h. and 0 to 60 m.p.h. in just 3.7 seconds per Car and Driver and Road & Track. I have traveled the United States and to Geneva for auto shows and met with royalty, superstars, shareholders, fans, and fanatics.

I was charged with planning events, gathering technical contacts, developing sponsorship with major companies, advertising, and promotional momentum aside from giving technical expertise.
~ Requested by Adrian Reynard to provide technical input to their '93 Toyota Atlantic open-wheel racer in '92.
~ Active member of the RARE BEAR
Reno Air Racing Team. The vintage Grumman F-8F Bearcat owned by Lyle Shelton is "the world's fastest piston powered airplane" - 529 m.p.h. I assist them in aerodynamic consulting, marketing concepts, and securing donations from my aerospace contacts.
~ Past Marketing & Sales Director of the G-383 Greenwood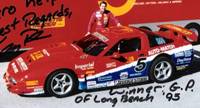 Corvette. I was charged with the marketing momentum of this newly released supercar devised by noted Corvette race car tuner, John Greenwood. John, in his independently backed Corvette, beat the factory sponsored entries at the 1969 LeMans; due to that finish, John single-handedly eliminated Chevrolet's backed racing Corvette and later that racing program. I had every automobile magazine anxious to have this vehicle adorn their covers.
~ Guest of several of the NHRA's Top Fuel Dragster and Funny Car teams continuously at various races throughout the years. One team's crew chief has been quoted to say, "I have only been seeing 'gains' with
everything you have professed and we have implemented on the car so far."
~ Flown to the 1999 NHRA Sonoma drag race as an independent aerodynamics consultant for future rule changes and safety issues by the NHRA Vice-President of Technical Operations.
~ Consulted on numerous Import Drag Racing cars.
~ Attended IndyCar, Indianapolis 500, ACO/ALMS, Grand-Am, Formula 1, Winston Stock Car, Trans Am, USAC Dirt Track, SCCA-GT, NHRA drag racing, and vintage car racing events for 35 years.
~ I have been an active pilot for the last 27 years since I was 16 years old. I currently hold an FAA commercial license with both instrument and multi-engine ratings. I have had the opportunity to fly aerobatics and sailplanes as well. I have flown with my friend who was rated fifth in the nation in aerobatics several years ago while another friend I have flown with was Region 12 Open Class sailplane champion and then later 15 Meter National Champion..

~Lead Aerodynamicist for a World Land Speed Record (WLSR) attempt. Teamed with Bill Fredrick who designed the Budweiser Rocket Car that sped to 739mph in 1979.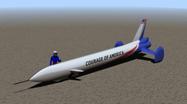 ~While as XCOR Aerospace's Chief Aerodynamicist, I was involved in the up and coming Rocket Racing League's Rocket Racer's aerodynamics as needed and founded its aerodynamics department with both Computational Fluid Dynamics services and a major computer manufacturer's use of their computers to do such intensive calculations for "gratis."
"Education
B.S. - Pennsylvania State University, 1984 - Aerospace Engineering.
M.S. - Polytechnic University, Brooklyn, New York, 1989 - Aerospace Engineering (Aerodynamics)
~Lockheed Technical Institute: Conceptual Aircraft Design (Lee Nicolai), Practical Aircraft Design (Daniel Raymer), Stability & Control of Aerospace Vehicles (H.M Youssef), LASC's CFD Codes I & II of II.
~Dan Raymer: Aircraft Conceptual Design 5 Day Short Course and Aircraft Design Layout & Loft – January 2014, Unmanned Aerial Vehicle Design 3 Day Short Course – February 2015.
~ Completed Claude Rouelle's Race Car Engineering Seminar, February 2002
~ Taught at Art Center College of Design, Pasadena, CA 2002 – Professor of Vehicle Aerodynamics
~ Attended National Test Pilot School, Mojave, California, for the Fixed Wing Flight Testing certificate program, May 2003 and 2012.
~ Schools I have addressed on behalf of SAE regarding Vehicle Aerodynamics. There are ~25 but the gallery link is broken and have rescinded it for now. 5.2015

Organizations
~ Motor Press Guild, associated with since 1995, sponsored by John Dinkel, Editor-in-Chief of Road & Track for 15 years. This guild affords me the opportunity to meet automotive dignitaries and access automotive events due to the media relation.
~ Society of Automotive Engineers, member since 1981, held numerous volunteer positions such as Program Planning Chairman of the annual AEROTECH convention for 1991 and 1992, and member of the S.A.E. Aerodynamics Committee.
~ American Auto Racing Writers & Broadcasters Association, affiliated since 2001.
~ Aircraft Owners & Pilots Association, member since 1977.
~ The Auto Racing Fraternity Foundation, Inc., member since 1975.

Miscellaneous
~ Co-operative studies done at Boeing-Helicopters in 1981 & 1983 while attending Pennsylvania State University.
~ I have worked at every major aerospace company over the last 20 years: Boeing-Vertol, Grumman, Lockheed, McDonnell-Douglas, Boeing, a Handling Qualities Principal Engineer on the F-22A CTF and XCOR Aerospace as their Chief Aerodynamicist.
~ I have had several courses in Computational Fluid Dynamics besides my Masters Degree in aerodynamics. My colleagues are principals at Analytical Methods Inc., developers of the CFD program – VSAERO and another is a CFD expert, aerospace department head of a major university and designer of several race winning car designs.
~ My alma mater's aerospace engineering department has given their verbal interest to venture into a mutually beneficial co-operative effort whereby the educational and industrial interactive relationship may be exploited.
~ Another major university has given me a verbal commitment to access their moving ground plane tunnel for any automotive or aircraft research. Student participation reduces the associated costs significantly.
~ I am currently giving Vehicle Aerodynamics seminars to various universities, clubs, companies and paying clientele.
Papers
1. Goldberg, U., Akdag, V., Palaniswamy, S., Oberoi, R., Bachchan, N., Glessner, P., Fredrick, W. "CFD Analysis of the American Challenger Rocket Car", SAE Paper 2006-01-0809, SAE World Congress, Detroit, MI, 2006.
2. Oberoi, R., Chakravarthy, S., Fredrick, W.,
Glessner, P.T. "Using CFD to Design the American Challenger Rocket Car", SAE Paper 2006-01-3660, SAE Motorsports Engineering Conference & Exposition, Dearborn, MI, 2006.
3. R. Oberoi, S. Chakravarthy, O. Peroomian, V. Akdag, Metacomp Technologies, Inc., W. Fredrick, P.T. Glessner, "CFD Analysis of Directional Stability for the American Challenger Rocket Car, " SAE Paper 2007- pending, SAE Aerotech, Los Angeles, 2007.
Contacts: The list of contacts is extensive. I can elaborate on the list as necessary.
Resume can be sent upon request.
I hope this short synopsis provides some insight as to my background, capacity, and capability to provide both marketing and technical direction. Please feel free to contact me if I may be of further assistance.

Sincerely,

Paul T. Glessner, M.S.
Aerodynamics and Stability & Control Engineer
Cell: (56 two) Seven One Four -668 six
PTGlessner AT aeroseminars DOT com