"I wished I had Paul as a teacher when I attended Art Center."
- Ken Okuyama, designer of the Ferarri Enzo and past Transportation Chair of the Art Center College of Design in Pasadena.
Paul T. Glessner's Biography
Paul T. Glessner has worked as an aerospace engineer in varying capacities for Boeing-Vertol, Grumman Aerospace, Lockheed - Burbank, McDonnell-Douglas, now Boeing, Sikorsky, CEI, ATK, Mooney Int'l and General Atomics on such projects as the CH-46/47, F-14, classified projects, S-3,P-3, accident investigations, High Speed Civil Transport, B-717, MSST, and the Space Shuttle in such disciplines as Stability, Control & Flying Qualities besides Aerodynamics, Flight and Wind Tunnel Testing and Flight Controls. Paul not only has 300 hours jumpseating in airliners' cockpits pre-9/11, he also flew with the Chief Pilot of British Airways on the Concorde in the cockpit from New York to London and back. He has been flying since he was 16 years old holding an FAA Commercial License with Instrument and Multi-engine Land ratings.
Paul did a two and a half year stint as a Principal Engineer-Specialist overseeing the handling qualities of the then - USAF's number one program, the F-22 Raptor fighter plane. He was then courted to be the Chief Aerodynamicist at XCOR Aerospace at the Mojave Spaceport designing Lynx, a sub-orbital spaceplane, which was seen both on the cover of Aviation Week and in the news offering the public rides; he founded a more formal aerodynamics department there with services provided by CFD experts and a top-level computer company. Paul traveled to West Palm Beach to be a Handling Qualities (HQ) flight test engineer (FTE) on the Canadian CH-148 Cyclone; Paul was also shouldered with being an armament lead that successfully dropped Mk-46 torpedoes. He later became a mission systems flight test engineer while working for Lockheed Martin on the F-35 Joint Strike Fighter Program at Edwards AFB. He then was hired by the subcontractor, Composite Engineering, Inc. (CEI), as an aerodynamics consultant for transonic wind tunnel testing and renovation of the prime's or ATK's Multi-Stage Supersonic Target (MSST) wind tunnel model which incorporated strain gages on pertinent control surfaces for hinge moment data. Paul was picked up by ATK after that testing to do supersonic wind tunnel testing and lead the low speed wind tunnel test. Paul was then hired by Mooney International as a stability & control, aerodynamics, wind tunnel and flight test engineer on their all new composite M10 aircraft; his first day of work was at the wind tunnel test. He is continually consulting to the automotive and aerospace industries and currently working at General Atomics' Electromagnetics division on aerodynamic concepts, where he was the IPT Lead of Test for a time and had assisted with their railgun's Mach 6 projectiles. Paul was recently performing aerodynamic analyses on SpaceShip III (SS3) at Virgin Galactic and is looking for his next - venture.
Regarding cars, Mark Donohue was Paul's idol growing up in the late 60's. Paul starting writing to Mark at age 6 after viewing a Penske Racing press kit that his fatherm who worked at the team's prime sponsor, SUNOCO (Sun Oil Company) as their corporate architect, had brought home from work. Paul wrote telling Mark that he wanted to be a race car driver, too. Five years later after Mark won the 1972 Indy 500, he presented Paul with his Team Penske/Sunoco uniform (click Mark Donohue to view the suit). It has adorned the walls of the Petersen Automotive Museum in Los Angeles, California.
Upon learning of Mark's crash during the 1975 Austrian Grand Prix's practice, he mailed a blessed Miraculous Medal to Mark in the hospital. Unfortunately, Mark passed and Paul was able to serve his funeral as an altar boy.
Paul's father, presuming racing was more dangerous than all the flying he did during WWII and after, put Paul in a Piper 140 at Bridgeport, New Jersey and the rest was history. Paul changed his thinking from being a mechanical engineer like ihis idol to being an aerospace engineer after flying and later earning his student and private pilot licenses.
It was from then on that Paul corresponded with Roger Penske. For the previous eight years, Paul had only corresponded to Mark Donohue. Paul, then 20 yo, at Penn State University to learn more about aerodynamnics, wing design and winglets. Paul called Roger's secretary, Joanne, at the time, January 1981 requesting the team's latest - press kit; the very item that started this unique relationship and apprised her of a wing design he envisioned. Roger Penske called a 20 yo student and Paul told him 10 sentences with one of them being, "If I can give you five pounds of push for three and a half hours over 500 miles, would that interest you?" Roger turned Paul on to, then team manager, Derrick Walker, and after six months of a back and forth of snail mail, it was followed by 18 months of silence. Paul watched the 1983 Indy 500 and saw what he felt were very different wings on the Penske cars. Roger responded and confirmed to Paul's query on typical Penske Racing letterhead confirmed that his wing design was used. What Paul initiated in 1981, Roger's two cars placed second and third (Unser, Sr. and Rick Mears, both four time Indy 500 winners) in the 1983 Indy 500! Click on Mark Donohue to learn more about Paul's unique relationship with America's past racing hero.
BUT WAIT, there is more. 37 years later, while working for General Atomics, Paul was sent to Sandia Labs at Kirtland AFB, Albuequerque, New Mexico or - Unserville: Unser Boulevard, Bobby and Al's residences and the Unser Museum. Paul had lunch or dinner once or twice a week for the the next seven weeks from January 2020 till March. Al, Sr. requested to meet Paul after he was apprised of Paul's 'email into the blind' to the museum's website. It was on February 6th, 2020, face to face with Al, for an hour, where Al led off with..."You may not know this but an (Indy) official said that I ran over an air hose in the pits and that was a safety infraction and I was penalized a one lap penalty. I place second and after the race, the very same official came up to me and stated, "Al, I am sorry. I made a human error. You did not run over the hose!" My wing and Al Unser, Sr. actually won the 1983 Indianapolis 500! Knowing Roger, I will confirm, but I bet you he appealed and IMS did not change the obvious. Ugh.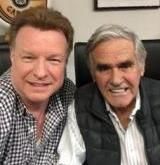 Inscription above: To Paul, Your wing design got me a P2. Al Unser
*** A movie treatment and a subsequent movie are in development as of May 2023. Contact Paul is you wish to aid in the movie's success.
He then oversaw two Penn State colleagues wind tunnel test Bob Leitzinger's Camel GTU 280ZX and found drag and downforce concepts that helped Bob win two national championships the following years. In the late 90's Don Prudhomme, Dale Armstrong and NHRA extended the fun factor immensely as he interfaced with the teams both personally to increase speed and reduce drag and on behalf of the sanctioning body, N.H.R.A., for the benefit of drivers' safety and rules changes. Paul felt he reached a level of competence after having taught vehicle aerodynamics at one of the U.S.'s top three art center's transportation department - Art Center College of Design in Pasadena, California. (letter of recommendation) Paul was the Lead Aerodynamicist for a U.S. attempt led by Bill Fredrick, who designed the Budweiser Rocket car, to bring the World Land Speed Record back to the States from the British in April '07 - 800 m.p.h.! That effort was halted unfortunately but three S.A.E. technical papers were generated regarding CFD investigations. Currently, VAC was asked to join Craig Breedlove's team for their U.S. assault on the World Land Speed Record. Paul was most grateful of the opportunity to continue making vehicles go - faster. The invitation from the financier himself took place at AutoClub Speedway's Media Center March 2017; stay tuned.
Paul is a member of S.A.E., S.F.T.E., A.O.P.A., M.P.G., and A.A.R.W.B.A.
Paul has received awards from Boeing, the U.S. Air Force, JT3, L.L.C. and NASA.
He has both a B.S. from Pennsylvania State University and an M.S. from Polytechnic University-Brooklyn in aerospace engineering.
These aforementioned experiences allows Paul the ability to speak on both sides of the aerospace/auto racing fence when giving his Vehicle Aerodynamics seminars. That is a very rare attribute that only benefits the attendees.
He volunteers his time to the Society of Automotive Engineers (SAE) to speak at major universities with a Formula SAE open-wheel program. Recently, Paul has spoken at the 'Triple Crown' of speaking engagements; SAE's headquarters in Troy, MI., SEMA's 39th annual Las Vegas convention and Performance Racing Industry's symposium in Orlando. Recently, Paul had been very involved with the Boys Republic school since attending the 2016 Friends of Steve McQueen Car & Motorcycle Show. He was appointed to the car show committee in July 2017 after the live auction of two tours of Jay Leno's Garage garnered $31,000 and the acceptance of Jay to be the 2017 Della Robbia Wreath Chairperson joining the likes of John Wayne, Bob Hope, Barbara Bush and Steve McQueen.
Resume, letters of recommendation, references and additional pictures upon request.