Enjoy reading, viewing and learning more about Paul's unique relationship with America's past racing hero below. One can see that Mark was very much into addressing the "young person's mind" as he consistently addressed education. Paul was very young when some of this was written so in his mind, nothing was impossible. Paul has accomplished much after his brief but pointed encounter with Mark Donohue. The Biography link gives more background.
| | |
| --- | --- |
| The two articles to the right detail Paul's involvement with Mark Donohue at age 14. The first was printed shortly after Mark Donohue's death in August of 1975. Click each thumbnail for a PDF of the article. (PDF 748k) | |
| This second article recaps Paul's career, as printed March 10, 2005, beginning with the inspiration of Mark Donohue. (PDF 532K) | |
Mark Donohue was Paul's idol growing up in the late 60's. Paul starting writing to Mark at age 6 after viewing a Penske Racing press release his father who worked at the team's prime sponsor, SUNOCO (Sun Oil Company) as their corporate architect, had brought home from work. Paul wrote telling Mark that he wanted to be a race car driver, too. Five years later after Mark won the 1972 Indy 500, he presented Paul with his Team Penske/Sunoco uniform (view the suit below). It has been adorning the walls of the Petersen Automotive Museum in Los Angeles, California.
Upon learning of Mark's crash during the 1975 Austrian Grand Prix's practice, he mailed a blessed Miraculous Medal to Mark in the hospital. Unfortunately, Mark passed and Paul was able to serve his funeral as an altar boy. It was from then on that he corresponded with Roger Penske. Roger called Paul at Penn State University to learn more about the wing design after Paul apprised Roger's secretary about the concept. Roger Penske and Derrick Walker raced the wing design Paul initiated in 1981 for both the cars Roger fielded in the 1983 Indy 500; the cars placed second and third; there were only three cars on that last lap. Paul was 20 y.o. when he got the call from Roger. But, it is what Al Unser, Sr. told Paul 37 years later in the Unser Museum in Alberquerque, NM, on February 6, 2020, as to why a feature film is being devised...
The following is some of the correspondence between a young Paul T. Glessner and Mark Donohue. Note the letter where Mark promises to give Paul his driving suit (which he later did, a very short time after his 1972 Indy 500 win - see articles above)
This is the typical, classic racer/racecar picture taken at the Indianapolis Motor Speedway (IMS) for PR purposes. Mark had sent me several of these - autographed.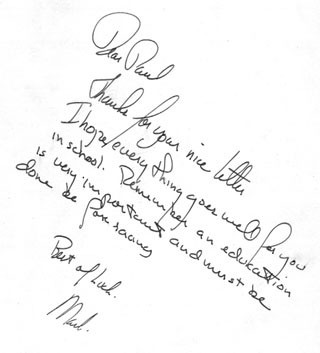 "Remember an education is very important and must be done before racing."
- Mark Donohue
"I suggest you make sure to do school and college properly to the most out of it. If racing comes after that OK but at least you'll have your education which is most important."
- Mark Donohue

"Later I hope to be able to send you an old driver's suit." - Mark Donohue
My suit hanging in the Petersen Automotive Museum.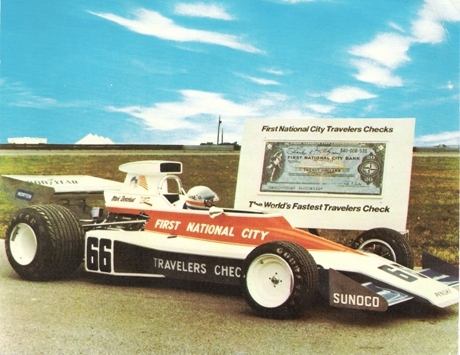 Above postcard received shortly before Mark's untimely death. Circa 1975
Notice Mark's visor from the 1973 Indy 500 timeframe.
Here it is today in my possession. Sept. 2009
Letter re provenance and dated envelope.
'Return from Warp' by Alan S. Greene