"I wished I had Paul as a teacher when I attended Art Center."
- Ken Okuyama, designer of the Ferarri Enzo and past Transportation Chair of the Art Center College of Design in Pasadena.
Consulting
Vehicle Aerodynamics Consultants, Inc. (VAC) have shown many a motorsports team, company or organization the benefits of a vehicle's aerodynamics design. If you have a land-speed vehicle, a road racer, an Indy car, a dragster, a preliminary aircraft or spaceplane design, Paul and his team will always find a way to exploit the rules and/or the air and give your organization the "Unfair Advantage."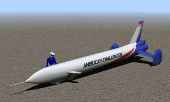 VAC is involved in a World Land Speed Record design and other unique projects. These projects, the hypersonic design of a passenger spaceplane and the ability to get resolutions to almost any aerodynamics problem should put VAC into anyone's PDA. VAC's Computational Fluid Dynamics team can handle any vehicle design of this Earth or - out of this world. See some of the past clients' list here.
Prior to incorporating, Paul had consulted for championship winning race teams such as Don Prudhomme, Bob Leitzinger, NHRA for safety and rules changes and even designed a rear wing that was used on Roger Penske's Indy Cars which placed second and third in the 1983 Indy 500; Paul was 20 y.o. when he got the call from Roger. Below is Sean Roe's Greenwood Corvette G383 body style that Paul touted to teams for its aerodynamic attributes. Click for Paul's Racing Backgrounder.
Mark Donohue gave Paul his racing suit the year he won the '72 Indy 500 after writing to Mark since Paul was 6 y.o. Click on Mark Donohue to learn more about Paul's unique relationship with America's past racing hero.
A short story of how Roger Penske was helped by Paul while a junior at Penn State University can be read. It led to a near winning wing designed raced on both of the cars he fielded that year driven by Al Unser, Sr. and Rick Mears which placed 2nd and 3rd, respectively; there were only three cars on the last lap.