Clients List
Vehicle Aerodynamics Consultants, Inc. (VAC) have shown many a motorsports team, company or organization the benefits of a vehicle's aerodynamics design. If you have a land-speed vehicle, a road racer, an Indy car, a dragster or a preliminary aircraft design, Paul and his team will always find a way to exploit the rules and/or the air and give your organization the "Unfair Advantage."
Some of VAC's clientele:
Alliant Techsystems (ATK) now Orbital-ATK - led the low speed test of the MSST Air Vehicle with RATO assembly and upgrade from the basic Integral Vehicle to include the RATO assembly besides assisting with a supersonic test and both tunnel test reports and data reports.
Composite Engineering Inc. (CEi) - renovation of the MSST transonic model and subsequent testing.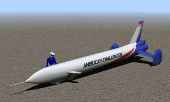 Romatec Research's 800mph World Land Speed Record design. Romatec Research designed and sped the Budwieser Rocket Car to 740mph at Edwards AFB in December 1979. Gathered the CFD services done 'gratis' through several design iterations and from mid-Mach to beyond the Speed of Sound (SOS).
Pappas Racing's ALMS Ford GT aero overview. Aero treatments added to front of car for additional trim downforce (DF) plus eighteen other aero suggestions.
Grand Am sanctioning body on the recent design/chassis additions to the Daytona Prototype series.
World's Fastest Ferrari project.
Mission Motors - consulted to help win the upcoming 38 mile zero emissions TTXGP race at the Isle of Man on June 12, 2009 for their current design, M2. Their following design will be for production and incorporate lessons learned and a potential redesign of the chassis.
Prior to incorporating, Paul had consulted for championship winning race teams such as Don Prudhomme, Bob Leitzinger, NHRA for safety and rules changes and even designed a rear wing that was used on Roger Penske's Indy Cars which placed second and third in the 1983 Indy 500; Paul was 20 y.o. when he got the call from Roger. Below is Sean Roe's Greenwood Corvette G383 body style that Paul touted to teams for its aerodynamic attributes. Click for Paul's Racing Backgrounder.
Mark Donohue gave Paul his racing suit the year he won the '72 Indy 500 after writing to Mark since Paul was 6 y.o. Click on Mark Donohue to learn more about Paul's unique relationship with America's past racing hero.